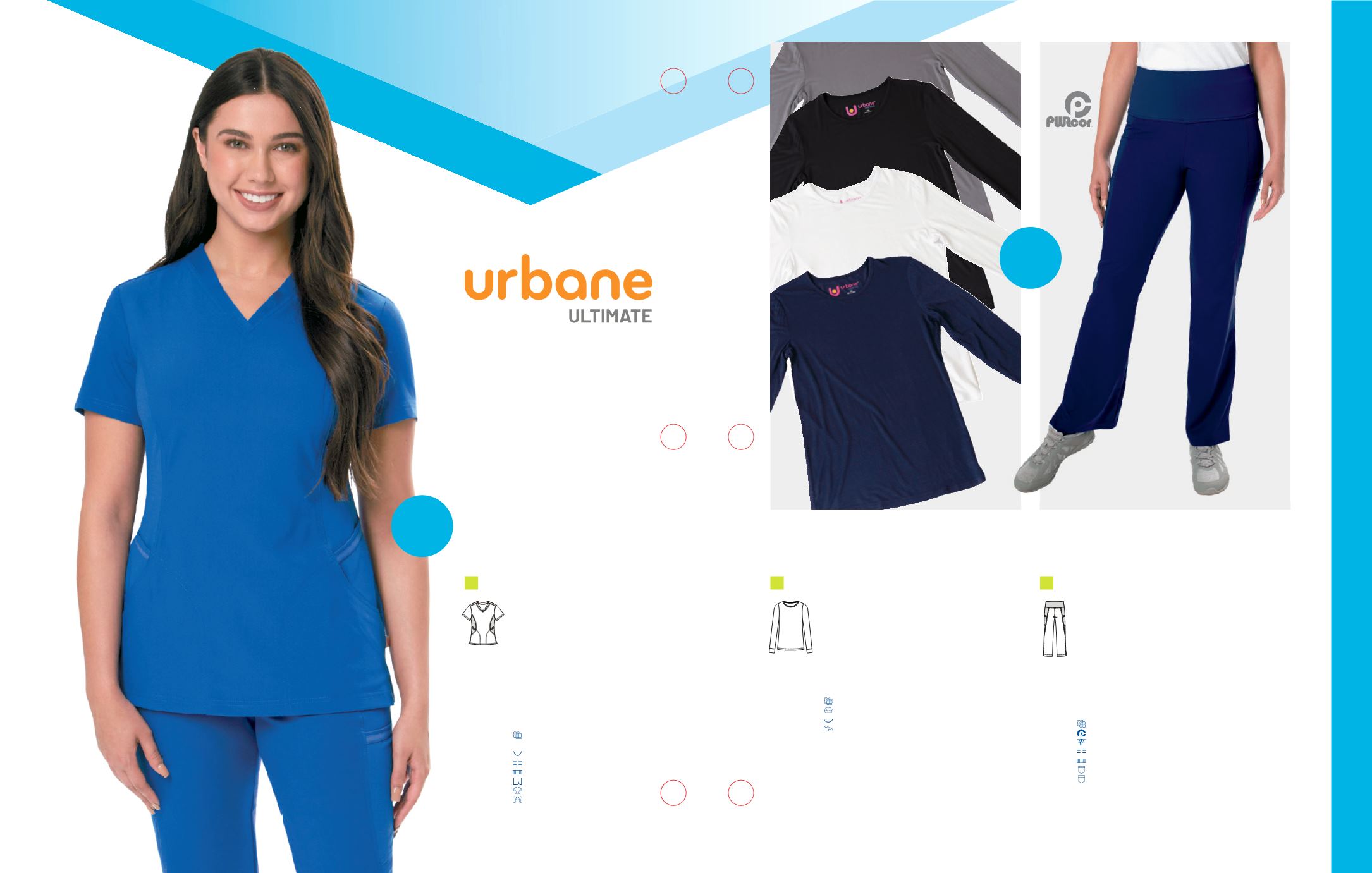 Your schedule is packed, and you
like it that way. But even when
you're crazy busy, Urbane keeps you
looking sleek and stylish. Yoga? Sure.
Overtime in the O.R.? Bring it. Urbane
scrubs are designed to go anywhere
and go the distance. Just like you.
>> Outfit your on-the-go life at
A Women's Ultimate V-Neck
with Knit Panels | 9076
This Ultimate V-neck is designed
to be both fitted and functional.
It features princess seams for a
flattering fit along with double needle
stitching that creates a polished
look. The side knit panels allow for
easy movement while the top entry
pockets and additional accessory
pockets provide plenty of storage.
54% Rayon/44% Polyester/2%
Knit Side Panels for Mobility
Side Vents for Ease of Movement
Back Knit Paneling on Shoulder
and Sides for Added Mobility
Sizes: XS–3XL*
Medium Length: 26⅜"
C Women's Ultimate Yoga Pant with
PWRcor
™
Waistband | 9337
This comfortable yoga pant o ers a look and feel
you are sure to adore. Featuring two layers of
™
of compression to support you throughout your day.
The front seaming detail and double needle stitching
gives you the style you want with the durability you
need, and you can easily organize your tools in
one of the back pockets or side cargo pockets.
54% Rayon/44% Polyester/2% Spandex
™
Knit Side Panels for Extra Mobility
Two Knit Cargo Pockets with Stretch Ribbed Cord Detail
Two Back Pockets with Stretch Ribbed Cord Detail
Regular: XS–3XL* (30½" inseam)
Petite: PXS–P2X* (28" inseam)
Tall: TXS–TXL* (32½" inseam)
B Urbane Ultimate
Layering Tee | 90003
Experience the softness of our
long sleeve Ultimate Tee. This crew
neck tee features a contemporary
fit that can be layered under
your scrub coat or jacket for
superior comfort all day long.
Sizes: XS–2XL*
Medium Length: 26⅜"
*See color chart on page 27 for available sizes and colors.